Well…I basically said the main thing I wanted to say up in the title so….what now?
In all seriousness, I have found it very difficult to focus enough to read in the last couple weeks, and from what I've been seeing on Twitter and hearing from friends that's not a unique experience, so if that's the experience you're having, I encourage you to cut yourselves a lot of slack (in this and in all things). It's not a vacation, it's a fucking pandemic (and there are many whose jobs don't allow spending the significant amount of time at home many are currently experiencing.)
With that in mind, in place of books talk, a list (that will also be in the soon-to-be-sent Pop Culture Pen Pals) of small things that have been bringing me comfort and joy:
virtual movie dates with friends
French lessons on Duolingo (it turns out I find that ominous owl and the trumpet reward sounds very validating and soothing!)
potatoes
podcasts like Appointment Television, Pop Culture Happy Hour, Unfriendly Black Hotties, and Overdue, all of which I've been listening to long enough that the hosts and frequent guests have started to feel like friends I get to hear talk for an hour a week 
four songs from Moulin Rouge! (hint: Ewan McGregor sings in all of them)
crocheting
this masterpiece edit of movie dancing scenes to Robyn's "Dancing on My Own"
the return of One Day at a Time (and Kathryn VanArendonk's writing about it)
playing fetch with the cat
writing steamy fanfic about Star Trek's Dr. Bones McCoy (as portrayed by the incomparably sexy Karl Urban)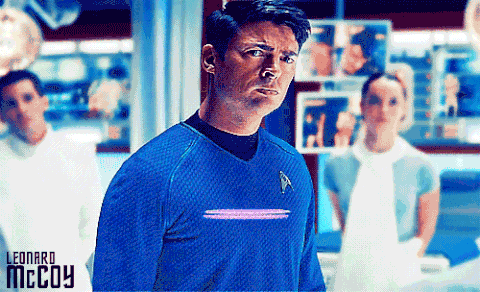 That's all I've got this week. Stay safe out there everyone.