This post brought to you by Hannah Paasch's assertion that Danielle from Ever After is a 5w4 which I ALSO AM and a lot of coffee.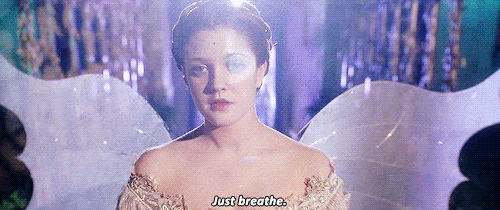 This has revitalized me and given me the confidence I need to make it through the rest of this week. Anyway, every book from this week is a complete and total winner and I'm excited to tell you about them!
Transforming: The Bible and the Lives of Transgender Christians – Austen Hartke
I simultaneously want to loan this book to every single person I know, while also REFUSING to lend it to anyone because I want to force them to buy their own copy. It seems like a cheesy thing to say "this is an important book!" but IT IS, and heck if I didn't start this blog as an excuse to be cheesy whenever I damn well please.
Austen Hartke is a self-described "trans scripture nerd" who has been vlogging about being trans and Christian for years. This book is a masterfully crafted blend of exegesis, history, research, and personal narratives. The words "resource" and "un-put-downable" don't often show up in the same descriptions for me, but they do in this book. Hartke also manages to be clear that being trans is not just acceptable but beautiful, while also having an incredible amount of grace for those who might not be there yet but want to know more. Also a great resource for those who are already affirming and want to know more about how to care for their trans and nonbinary friends/family/neighbors/Twitter idols in the most helpful way! Also excellent for trans and nonbinary people seeking affirming resources. (I really wish I could stop using the word "resource" but, like, this is a resource in the FULLEST sense of the word!!) Also if you're on Twitter, follow him there at @AustenLionheart because he's pretty great.
The Hate U Give – Angie Thomas
Just last week, 22 year old Stephon Clark was shot by Sacramento police in his own backyard. Actually, there's probably a more recent instance, but this is the one that's been all over Twitter this week. This week. Last week it was someone else, and next week it will probably be someone else.
Angie Thomas takes the reader up close to one of these murders through the eyes of Starr Carter, a 16 year old who witnesses her best friend's death. This isn't a spoiler — it's right at the beginning of the book, and the rest of the narrative is the aftermath, for Starr herself and for her community. This is technically a YA book, and is an excellent example of all the best the genre has to offer. Thomas' characters are beautifully well-drawn and the book is full of both great pain and great joy. It deserves every award AND fun fact there's a movie version coming out later this year, starring — among others — Amandla Stenberg, Regina Hall, Anthony Mackie, and COMMON!! I'm pumped and you should be too. And also you should read this book, if I haven't already made that ABUNDANTLY clear. On Twitter she is @angiecthomas and following her there is an excellent idea, particularly for information about her upcoming book On The Come Up. [ok I just doublechecked and I guess by "upcoming" I mean February 2019 but FOLLOW HER ANYWAY.]
Lost in a Good Book: A Thursday Next Novel – Jasper Fforde
Someone needs to explain to me why these books aren't a long-running TV series, like RIGHT NOW. Something Doctor Who-like, with spotty special effects and a revolving door of showrunners.
This is the second book in a series about Thursday Next, a witty, resourceful, "literary detective" who exists in a reality in which there's an entire Special Operations department dedicated to time travel, jumping in and out of books is a real possibility, and so many people want to name themselves after William Shakespeare that there actually needs to be a numbering system. I've heard the series described as "literary beach reads," but I actually think they're more along the lines of "the perfect book to read with a cup of tea and a blanket on a rainy day."
I would highly recommend beginning with the first book, The Eyre Affair. The books aren't heavily serialized, but they do build upon a mythology that expands and deepens from book to book. [since I mentioned it for the other two, Fforde also has a Twitter @jasperfforde]
whelp I realized that I haven't actually done much that's Danielle de Barbarac-y today yet, other than talk about books a lot, so I'm off to party-crash a royal ball or throw apples at my true love. Until next time!