First things first: happy Pride Month to any and all LGBTQIA readers! I'm glad you're here, "here" meaning both "here at this blog" and "here in the world at general." Last night right after I finished Book #3 for this post, I realized that, quite by happy accident, all of the books I finished this week had at least one main character that was part of the LGBTQIA community, which is a cool little coincidence!
All of these books were un-putdownable and I'm not going to waste any more time up babbling up here because we have some great books to babble about instead!
Exit West – Mohsin Hamid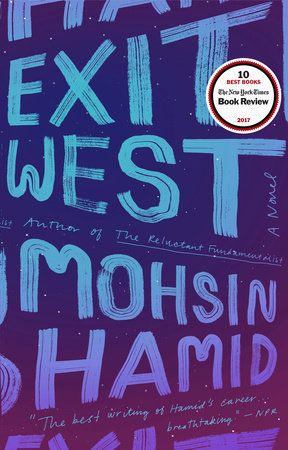 I read this book in two sittings because I was so swept away by the gorgeous sentences, compelling characters, and a premise illustrated with the perfect amount of detail. Nadia and Saeed, Hamid's main characters, [WHICH, like, don't think that I didn't think about those also being the names of characters on the television show Lost (albeit with a different spelling) because I TOTALLY DID] meet and begin to fall in love as unrest and instability in their [unnamed] city grows. Meanwhile, mysterious "doors" are popping up around the world, granting access from continent to continent, hemisphere to hemisphere.
The premise is carried off with subtlety and thoughtfulness — it's not a puzzlebox and you never find out why or how these doors came to exist. That's not a spoiler; it's pretty evident from the first couple chapters that the "how" is not the point, as the narrative instead explores this concept that the universe will find a way to open itself to refugees, even if its people and policies won't. Amidst that concept, Hamid also explores questions that include (but are in no way limited to!): What does it mean to be "from" a place, and how does leaving that place impact your identity? What does love look like in a time of chaos and how does it shift?
Also, it's kind of a short read! So if you think you don't have time for a beautifully written magical-realism-refugee-love-story, good news! You definitely do!
Would You Rather: A Memoir of Growing Up and Coming Out – Katie Heaney
Folks, all of this week's books really grabbed me. I couldn't put this memoir down, and then my roommate started reading it and she couldn't put it down, because Heaney is such an engaging, funny, thoughtful writer that you just want to keep reading her reflections and portrayals of her own life and then sit and think forever about how seen you just felt.
[Sidebar: I feel like I use the word "thoughtful" a LOT on this blog, but as an enneagram 5 that's probably actually one of the HIGHEST COMPLIMENTS I COULD GIVE so I'm just gonna keep on doing it.]
Heaney wrote a book a few years ago called Never Have I Ever: My Life So Far Without a Date about her (humorously portrayed) challenges and struggles dating men. I loved that book a lot and held it very close to my heart, so when I heard about this book, I was very happy for her, and also…a little nervous for myself. I knew, of course, that the experiences of a writer, even a writer whose book I had related to very much, were not a reflection on the experiences of the reader and blah blah blah and you shouldn't be too invested in mapping your own experiences onto the crafted portrayal of a memoirist's experiences. I guess what I was nervous about was feeling silly or dumb for feeling so connected to a portrayal of an experience that wasn't quite the whole story.
And for the record: it's okay for the feelings you have or have had at any given point (esp regarding your sexuality or gender identity) not to be the full story, even if you write a full book about those feelings that turned out not to be the full story! [sidebar AGAIN: the wording behind this is kind of taken from a Daniel Mallory Ortberg interview at Autostraddle that I've thought about a lot since I first read it] We all learn and grow into ourselves at different times and in different ways and you're allowed to talk about it before you have "answers."
Her discussion of her first book takes up comparatively little space in the rest of this one, but I ended up finding it quite moving and honest (as is the rest of the book!), transparent in her portrayal of her conflicted feelings about the book even shortly after she had published it, and this expectation that writers have that writing/publishing about something will somehow solve it, that its appreciation from readers will completely validate the experience and banish any lingering doubts.
So anyway, this book inspired for me almost as many thoughts about the nature and process of memoir as it did about the nature and process of discovering one's sexuality. Heaney addresses all topics with warmth, care, and a pitch perfect sense of humor and everyone should read this book.
Far From the Tree – Robin Benway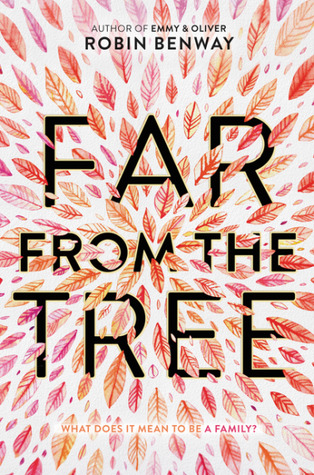 To quote from my own Instagram [ciTATIONS people!!]: "Open-eth up your Heart unto this book and Let-eth it to Wreck You."
This is a dear, dear book with three interesting protagonists that I wanted to protect with all my heart. Joaquin, Grace, and Maya share a biological mom but have grown up apart, Grace and Maya with adoptive families and Joaquin in a series of foster families. As the three meet and get to know each other more — and discuss whether they should find their birth mother, which Grace wants but the other two aren't thrilled about — you are drawn closer to the hearts of these three teens and an ever-more complicated understanding of each of their fears and frustrations. There were also some surprisingly thoughtful (there's that word again!) and candid discussions of the way that race and class play into the adoption/foster system, which is often missing from discussions about those systems.
This book got me even more hyped for Nicole Chung's upcoming memoir All You Can Ever Know about her experiences as a transracial adoptee which you should definitely pre-order! It also brought to mind Celeste Ng's Little Fires Everywhere, which is amazing and currently in development for a Hulu miniseries starring Reese Witherspoon (!!!!) and Kerry Washington (!!!!), so get on ahead of that curve so you can be the cool friend recommending it to all YOUR friends before it blows up the TV world as well as the literary world!
---
Alright folks, that's it for this week! Be good to each other and have a joyful and safe Pride Month!