You're back again, despite me severely (I imagine) testing everyone's patience with my absurdly long post last week. Your fortitude is admirable. I'm going to try to keep this post's shouting on the shorter side, partly as part of my quest to figure out the sweet spot in terms of length on these posts, and partly because on Friday y'all will be getting a glorious, shout-filled discussion between myself and my roommate Sydney Greve about The Fellowship of the Ring, so you should have plenty of cOnTeNt for your week.
Speaking of content, I wanted to briefly recommend something that I have been deeply antsy in anticipation about for months and which is soothing the female-led-prestige-drama shaped hole in my heart that Killing Eve left [reader: I have not made it past the middle of season 2 of Handmaid's Tale and truly I am unsure whether I ever will].
Sharp Objects is an HBO miniseries based on the book by Gillian Flynn [yep, Gone Girl Gillian Flynn], which I read last summer and was…intrigued by. Sharp Objects is about a reporter (played by Amy Adams!!!) who returns to her small Missouri hometown to cover the disappearance of a pre-teen girl who went missing a year after another pre-teen girl was found dead. Things continue to be fucked up. Being that it's a relatively short book, I am brimming with curiosity on how they're going to fill 8 hour-long episodes, but after watching a lot of pilot footage of Amy Adams driving around and staring…I'm not mad about it. I hold that if you don't watch this show with a strong drink in your hand, you're not actually watching it. It doesn't even have to be alcohol–have some really sharp unsweetened iced tea, I don't know. [As is a near-constant in these types of stories…discussions about sexual violence abound and there's likely to be at least one portrayal. (THIS IS WHY I MISS KILLING EVE, DAMMIT.) (Also shit I just remembered there should probably also be a self-harm TW for this show as well, so keep that in mind.)]
Americanah – Chimamanda Ngozi Adichie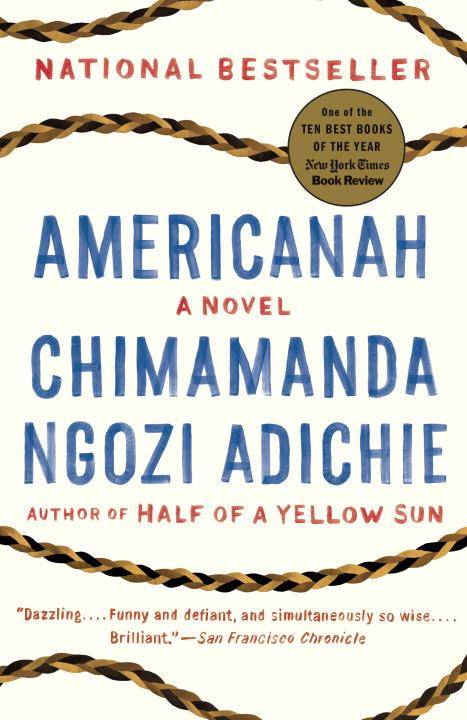 I read Adichie's We Should All Be Feminists a couple of months ago and discussed it briefly here, but her fiction was new to me. Pretty much to me only, because this was THE BOOK when it came out in 2013 and continues to be highly recommended by most of the world, because Adichie's writing is delightful and poignant.
At the start of the book, the main character, Ifemelu, is preparing to return to Nigeria after over a decade in the U.S. The book fluidly tells the story of Ifemelu's childhood and adolescence in Nigeria, her time in the U.S. attending university and then starting a successful blog about race, and then her return to Nigeria, as well as the life of Obinze, her first love. The story moves around in time and place quite a bit, but it never feels confusing or strained, which is a credit to Adichie's skill.
In addition to my enjoyment of the story, the book prompted a lot of thoughts for me about race and its many complications. As with Austin Channing Brown's I'm Still Here [discussed here], the parts that most stuck out to me were the "nice white people" [there is literally a white girl named Kelsey in this book] who wanted to believe they weren't racist but were still very stuck in their own perspective, who were anxious to do "the right thing" but were perhaps more invested in wanting to do the right thing than actually learning more. So often I am that person and I'm grateful to this book for broadening and deepening my perspective. And I also just enjoyed it a lot! The ending gave me a lot of feelings!
And truly I DID NOT KNOW THIS UNTIL TODAY, but apparently Lupita Nyong'o is going to be producing and starring in a TV adaptation?? I swear, I don't ONLY read things that are in the works for TV…but I also don't NOT read things that are in the works for TV and also I'm very excited for this. [It's not in production yet, so we have awhile to wait and you have plenty of time to read this book!]
Bellweather Rhapsody – Kate Racculia
Do you ever feel like a book was engineered in a lab specifically to bring you joy? That's how I felt immediately after hearing the premise discussed by the podcast Appointment Television when they had the author on as a guest, and that's how I felt reading it, and that's how I feel having finished it.
So basically there's this big music festival for high-schoolers and it takes place at this big, old Shining-esque hotel where something Dark and Traumatic happened 15 years ago and then on the first night, someone goes missing and also there's a lot of orchestra drama. Oh yeah, this isn't a "music festival" like Coachella, it's a music festival like "teenagers in slacks carrying bassoons around." And also: it's a very fun book! Love! Murder! Music! The 90s! What's not to adore??
---
Okay, jokesters, see you on Friday for the shout/countershout with Sydney! We discuss Big Themes, adaptation feelings, and speculate on how elf biology actually works.