Hey! Hello! It's Thursday and I'm recovering from a cold, which is why this is coming to you a day late and also why it may be a little more brisk than usual. [I just scorched my whole mouth on hot tea. I need another nap.]
FIRST THOUGH, before the books, I wanted to remind you that two very special adaptations come out this week and you should definitely see both of them:
Crazy Rich Asians – coming to a movie theater near you!!
To All the Boys I've Loved Before – coming to Netflix even NEARER to you!!
I Hate Everyone But You – Gaby Dunn & Allison Raskin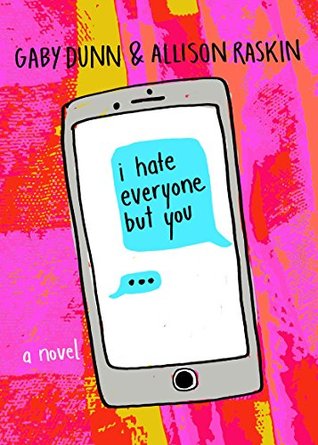 I really, really planned on loving this book. After all, I love Gaby Dunn and Allison Raskin [you might recognize them from their YouTube videos], I love books about intense friendships, and I love the epistolary 2-writer style that Paula Danziger and Ann M. Martin's P.S. Longer Letter Later prepared me for in childhood.
And I did like the book! Just not as much I thought I would. The book documents high school best friends Gen and Ava as they attend college on opposite coasts and email and text each other about their experiences with new friends, filmmaking, sexuality, mental health, and journalistic ethics. It was engaging and fun and heartbreaking–who can know for sure how much "Gen" and "Ava" are avatars for Dunn and Raskin, but their voices came through in a really enjoyable way. Maybe it was just that some of the pop-culture references felt a little copy-pasted in? At times I felt like they had initially conceived of the book as being set 5-10 years ago, but either they or an editor decided that it should be set in 2017.
Overall, though, if you like YA I think you'll like this. Also, everyone should go listen to Allison Raskin's narrative fiction podcast "Gossip" because I am hooked. Another thing this book reminded me of was the movie "Life Partners," [the title of this book is a line in the movie] which I believe is on Netflix [Ed. note: it is not on Netflix but it is on Hulu!! I may have rewatched it tonight] and made me feel EXTREMELY SEEN.
The Husband's Secret – Liane Moriarty
Y'all, this was almost a 1 book week [I've been making good progress on LOTR, I SWEAR], but then this nasty cold hit and I was home from work yesterday and kind of accidentally read this whole book in one day, which I think is the perfect way to read a Liane Moriarty book.
Moriarty is best known for her book Big Little Lies, which was adapted into an HBO mini-series, and this book is another jewel in her Ultimate Beach/Pool Reads crown. The Husband's Secret actually came first and–like BLL–tells the stories of three women whose lives unexpectedly interlock around some mYsTeRiOuS circumstances. Aside from some body stuff that I didn't love, I really enjoyed this book. It's compelling and interesting enough to read in one day, so whether you're spending a relaxing day by the water or huddled inside as your sinuses and throat try desperately to become One, I recommend it! [But read He Said/She Said first pleaaaaaaaase.]
---
Okay! I did it! I did a post with my head feeling like it's stuffed with cotton balls still!