We all deserve a lot of good books this week. For better or for worse, there are a lot of books right now that I feel obligated to be reading. I've got the Walker Percy books for that project, a couple data books for work [one of which has been infuriating me and I hope you're ready to hear all my rage about it when I finally drag myself to the finish line], a couple books I've borrowed from people and need to return, and etc. I liked both books I officially finished this week a lot and I'm excited to talk about them, but I also just want to wrap everyone in a warm blanket made of fleece and another one made of words, so I'm just coming out strong with a lot of books I love this week.
Many praises, of course, unto author Rainbow Rowell, who reminded us all on her Twitter of her iconic ode to October in her fabulous first book Attachments. Eleanor & Park is perhaps her best-known book, and it's incredible and it wrecked me and I'm hoping to reread it soon, but I have a very special place in my heart for Attachments, which takes what would have been a very upsetting premise in someone else's hands and makes it into something I've read it three times and am convinced is a masterpiece. It makes me feel new things each time I read it. Anyway, on Monday she tweeted this lovely art of her October quotation:
Okay, now onto the books that I ACTUALLY read this week, before we dive into some other fun stuff.
---
The House on Mango Street – Sandra Cisneros
I don't know how I got this far in life without reading this classic, especially since it's quite a short, easy read. It's composed of a series of vignettes based around the observations and experiences of the semi-autobiographical narrator, Esperanza. In the intro to the edition of the book that I have, Cisneros writes that she wants to "ignore borders between genres, between written and spoken, between highbrow literature and children's nursery rhymes, between New York and the imaginary village of Macondo, between the U.S. and Mexico." I haven't read her other works yet, but this book definitely accomplishes that, evading classification with gorgeous language and concisely effective characterization. Reading it feels both compelling and cozy and was the perfect thing to read right before bed last week when it was really necessary to me to close out the day with something Good.
Coincidentally, this post comes out the same week as America Ferrera's New York Times By the Book interview, in which she cited this as "the first book I read that allowed me to see myself as the protagonist of a story." [p.s. if you haven't seen Superstore on NBC, Ferrera is absolutely fantastic in it. The show has surpassed a lot of expectations I had in the beginning and has grown into something simultaneously exciting, hilarious, and heartfelt, and the fourth season starts on Thursday of this week!!!] [and is of course followed by the brilliant The Good Place, which basically got me through last Thursday and Friday]
Manic – Terri Cheney
I mean, when have you NOT wanted to read a memoir by a woman with bipolar disorder who tells her story nonlinearly in order to highlight the nonlinear journey of learning to manage mental illness?? What? You're not all as interested in literary memoir as I am??? Well TOO BAD.
This book is also fairly short but took me about two months to read, because at times I needed to just set it aside and sit with what I'd read for a bit. With frankness, illuminating metaphors, and wry, dark humor, Cheney tells a portion of her story (she has a memoir about her childhood as well), limiting the scope so as to focus most precisely on her experiences weathering the heights and depths of bipolar in her adulthood. I think this is the book I was looking for when I read Jaime Lowe's book Mental: Lithium, Love, and Losing My Mind a few months ago and I'm grateful to the friend who loaned it to me for letting me hold onto it much, much longer than I thought I'd need to.
[TW for suicide attempts and sexual assault]
---
And now here are some of the wonderful funny books I've read, all written by women, because if you think I'm in A Place right now to recommend books written by men, you would be INcorrect.
Scrappy Little Nobody – Anna Kendrick
At some point, perhaps, I will cease to be surprised by the range of Anna Kendrick, but apparently not yet. As many of you know from my ceaseless gushing, I recently saw her in A Simple Favor, as well as a comedy she did a couple of years ago with Sam Rockwell called Mr. Right. And yet somehow I wasn't expecting her book to be as great as it was. It's a romp from story to story, each one hilarious and thoughtful and even casually informative. She's frequently quite candid about the misconceptions people have about "making it" in Hollywood and shares her experiences navigating the waters of doing "art," while also working on projects that help pay the bills (remember how she was in the Twilight movies?), while also not putting down those projects or implying that they're worth less. She has a knack I love in celebrity memoirs, which is the ability to "dish" on a topic or experience [such as, for example, making the Twilight movies] without disrespecting or humiliating anyone else involved in that experience. [Alison Arngrim also has this knack in her STELLAR memoir Confessions of a Prairie Bitch: How I Survived Nellie Oleson and Learned to Love Being Hated which I want to talk about more in depth later, but I highly recommend (TW: childhood sexual abuse)]
You Can't Touch My Hair: And Other Things I Still Have to Explain – Phoebe Robinson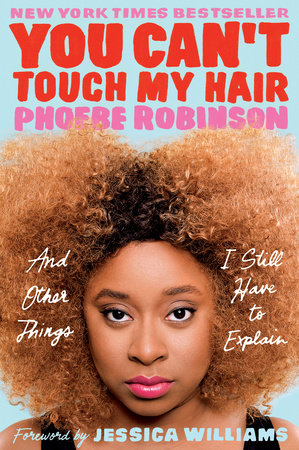 Like many people, I first heard of Phoebe Robinson through her show/podcast with Jessica Williams 2 Dope Queens, [which, if you haven't listened to it WOW YOU HAVE SO MUCH GOODNESS AHEAD OF YOU] [also, on the topic of Jessica Williams, if you've been super into the Netflix romcom craze and somehow missed her movie The Incredible Jessica James clear your Netflix-watching schedule for the night and get on that] but I wasn't very familiar with her other work. I was delighted to find that she's as skilled and engaging writer as she is comic. Her essays about "race, gender, and pop culture" [I'm stealing from the Amazon description here, but also…that's just the facts of the matter?] are funny and deeply moving and which I learned a lot from. She has another book coming out this month called Everything's Trash, But It's Okay that I'm very excited for, and she also hosts a podcast called Sooo Many White Guys that's incredibly fun and interviews a lot of interesting, excellent people. It's currently on hiatus, which is okay because that leaves you some extra time to catch up with three seasons of great interviews.
A Field Guide to Awkward Silences – Alexandra Petri
You may have read one of Alexandra Petri's excellent entries into her regular Washington Post column "the ComPost" where she provides a sharp, humorous take on current events. Last week she published this scathing satire of Kavanaugh's testimony, as well as this heartfelt reflection on Dr. Ford that almost brought me to tears, but in a healing "YES, YES, THAT" kind of way. I read her book last summer, which is part memoir/part essay collection full of some of the most awkward moments and most excellent jokes you will ever read. Also you'll be able to feel a little bit smug whenever someone shares a piece of hers on social media [also her twitter is very enjoyable, she's at @petridishes].
Is Everyone Hanging Out Without Me?/Why Not Me? – Mindy Kaling
I have such a dear, dear place in my heart for Mindy Kaling's books, especially her first one, because I'm pretty sure that's the book that introduced me to the celebrity-memoirs-that-are-actually-more-than-a-celebrity-memoir genre. Kaling is such an incredibly charming, talented writer who is able to seamlessly bond with the reader over insecurities while keeping a firm hand on her own sense of dignity and self-worth and she's just so damn inspiring and I love her so much okay just read these books.
And I'll leave you for the week with this picture of Mindy Kaling and BJ Novak gazing at each other before the Oscars which added approximately 14 years to my life and which one of my friends and I spent several hours just texting in all caps about.