After a lot of resistance, I have finally given in to the Goodreads mavens, and now I'm annoyed at everyone not on Goodreads, so come find me! In my experience, it's oddly difficult to find people On There, so here's a link to my profile. Let's stalk each other's book lists! I don't do much in the way of reviewing there, because, well, *gestures at the blog in front of your face*, but I do give actual ratings there, and sometimes snarky comments.
Algorithms of Oppression: How Search Engines Reinforce Racism – Safiya Umoja Noble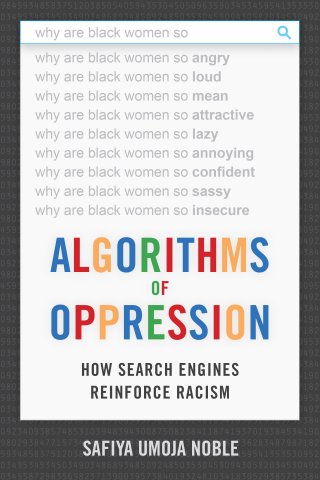 Now it's time for…another data science book! but!! this one is actually good! I also read this for work, where it was presented as the "rebuttal" to Stephens-Davidowitz's book. That's not quite accurate–the books actually came out around the same time, and when I had the opportunity to see her speak in person (which was great! she's a very engaging public speaker!) she mentioned that she hadn't read it but she was aware of the book and its claims but didn't have time to go into some of her issues with it.
Instead, this book is a thorough examination of the ways–as the subtitle states–search engines reinforce racism through the algorithms used to sort and present information, as well as what's done with the data they gather. There were so many times reading it that I thought "holy shit EVERYONE needs to know this!!" Dr. Noble's work primarily focuses on the way the general public is lead to believe that search engines are completely neutral actors, rather than the product of algorithms and priorities mostly determined by wealthy white men, and how this acutely harms black women and girls–and also! everyone! (well…everyone who's not a wealthy white man)
This is definitely a more academically written book than Everybody Lies; Noble is very thorough in laying out the critical frameworks she's using, as well as the results themselves, and their fallout. That makes it a much more in-depth (and, in my opinion, valuable) book, but it also makes it far less easy to read. I'm not at all saying that a book needs to be difficult to read be valuable! But! Everybody Lies definitely felt incomplete in a more substantial way than just "it's written for everyone!" and I'm extremely glad I read Noble's book. It actually made me feel the need for a common literacy about the way search engines and data gathering works and the need to stop treating for-profit ad companies (like Google!) as public services.
Middlemarch – George Eliot
I'm not sure how to even go about writing about this book because I just finished it last night and I'm still fluctuating between thinking "whew that book was so extremely long and I'm relieved it's done" and then "wow I can't believe it's over how am I supposed to just go on with my LIFE now??"
I've been working my way through this 19th century frickn DOORSTOP by George Eliot (aka Mary Anne Evans) for a couple months, but actually I think if I had buckled down it wouldn't have taken me as long as it did. The name of the book comes from the [fictional] town (province? county? it's kind of unclear) that the characters reside in. The characters themselves are a large web of interconnected relationships that Eliot deftly and precisely presents with both sharp commentary and a lot of compassion. Everyone in this book is ridiculous to varying degrees, but you also care deeply about all of them. The first half was definitely more of a struggle to get through, as Eliot takes her time setting up these characters and their connections, but by the end everyone's stories are linked in such interesting ways that the characters often aren't even aware of themselves.
As I was nearing the end of the book, I discovered this vlog-style contemporary retelling, similar to Lizzie Bennett Diaries and it became a really excellent incentive to finish the book, because I quickly became obsessed with the character portrayals. Like many of these retellings, there's kind of a stakes issue, because it can be difficult to translate the stakes of life-or-death issues in a 19th century English village into a 21st century college campus setting without going to extremes (which I kind of wish they would do, but I get that limitations exist), but I love that they've gender-bent a lot of the characters and situations and the whole thing is very charming.
---
One more recommendation before we go!
A while back, I read Angie Thomas' The Hate U Give and loved it, and the movie just came out and was also really good! The acting is incredible (GIVE. AMANDLA STENBERG. AN. OSCAR.) and the movie does well at balancing its heavy material with moments of levity and emotional relief. If you're white, I especially recommend not just seeing the movie (in theaters!) but paying attention to the responses of black people–both effusive and critical–to it, whether that's through articles, reviews, podcasts, or on social media.
Alright! See you later! Goodreads me!!