We're here! We did it! We made it into 2019! This tweet made me laugh a lot!
I've got a lot of books to share with you from the last two weeks, so we'll get right down to it after one quick thing, which is that if you haven't yet seen Spider-Man: Into the Spider-Verse, the newest (animated!) Spider-Man installment…GO! It manages to do the nearly impossible task of breathing originality into a hero so overdone as to become a joke. I want to read a thousand thinkpieces on the characterization of Miles Morales and the use of visual and musical style and also JAKE JOHNSON.

Okay. Now we'll get down to it, before I melt into a puddle.
---
When Women Were Birds: Fifty-Four Variations on Voice – Terry Tempest Williams
I haven't read Terry Tempest Williams since studying her writing in a class, but she's always kind of been in the back of my head as someone that I should be reading, and now I remember why. This quasi-memoir, quasi-nature writing, quasi-philosophical ruminations on her family history and female experience is made up of fifty-four (you could probably guess that part) vignettes of varying length. The thread throughout is the journals Williams inherited from her mother, a refrain: "My mother left me her journals, and all her journals were blank.", a mystery Williams spends the book not necessarily trying to solve—she knows from the start that she won't find a cut-and-dried answer—but perhaps make some sense of. Though that's the thread she keeps coming back to, she weaves in a number of other recurring themes, including her lifelong fascination with birds, her relationship with her husband, and the importance of introducing children to environmentalism with joy and nuance. All the themes build and rest on each other, and the complete book is a masterpiece.

Rainbirds – Clarissa Goenawan

This is maybe my favorite from this week(ish). Eerie and spare, Goenawan's story of a young man who moves to the city where his sister was murdered and finds himself stepping into many of the same spaces she occupied is the kind of book that it feels weird to go to sleep after reading. Partly because you just can't stop thinking about it, and partly because there are several dream sequences that are rendered so perfectly that you're almost worried that you might fall into them. The book is not precisely a thriller—it's more muted and less twisty—but Goenawan nails a tone and does an expert job at letting you know which details are important without being too obvious. (CW for brief discussions of self-harm)

And Now We Have Everything: On Motherhood Before I Was Ready – Meaghan O'Connell

And now…the three book section where it's going to look alarmingly like I'm pregnant. This, Atlas of Love, and Stray City all center unexpected pregnancies and the various navigations of the characters around them. I'm not pregnant, nor planning to be in the near future, and I'm not totallyyy sure how these three books all floated up to the top of my reading stack at the same time? Did I find a list several months ago titled: "Books to Read If Gilmore Girls made way too much of an impact on your conception of single motherhood?" (I mean, all these protagonists are white, so that theory isn't too far off…)

In any case, this is the memoir in the bunch, and isn't quite…what I expected. Based on the blurbs and book jacket, I thought O'Connell's journey into motherhood was a journey into single motherhood, which it wasn't, which is fine (good for her!) but also wasn't really what had piqued my interest. The other two (fiction) books examine being a single parent whose principal support comes from their friends and community, which is what I was interested in thinking about. That being said, I did read this book in nearly one sitting! O'Connell is candid and thoughtful (and her visceral description of giving birth will probably make anyone with a womb doubledown on their birth control) about the longing, pain, anxiety, desperation, and love that comes along with carrying a brand new person into the world, as well as what it looks like to renegotiate one's relationship to the rest of the world.

The Atlas of Love – Laurie Frankel

I really loved the premise of this book, which seemed like it was designed to appeal specifically to me: 3 women in an English PhD program who move in together when one of them gets pregnant? That's just straight-up Kelsey-bait! Add to that the fact that I really enjoyed Frankel's most recent book, This is How it Always Is* and I was fully prepared to love this one. And it was…fine. Honestly, I mostly kept reading because the narrator reminded me a lot of my dear friend Sarah, which made the whole experience much more pleasant. Narratively, the back half of the book was a bit scrambled, a lot of the characterization felt vague, and Frankel has a tendency for overly expository dialogue—characters have discussions that feel unrealistically "spontaneously deep" (which also happens in TIHIAI, but more purposefully and effectively harnessed). It was fine for a snowy-day-in read, and actually spent the most time out of these books on the mechanics of caring for a baby in community, but overall…*shrug*

(*note: I loved reading this book last summer, but have been hesitant about recommending it for the time being. The book is about a family whose youngest child is transgender, and Frankel herself, though the mother of a transgender child, is cis. That's not *necessarily* a problem, but I've been having a difficult time finding reviews from transgender readers. I felt that the book was thoughtful and lovely, but as a cis person myself, I'm aware that there could be stuff I'm missing.)

Stray City – Chelsey Johnson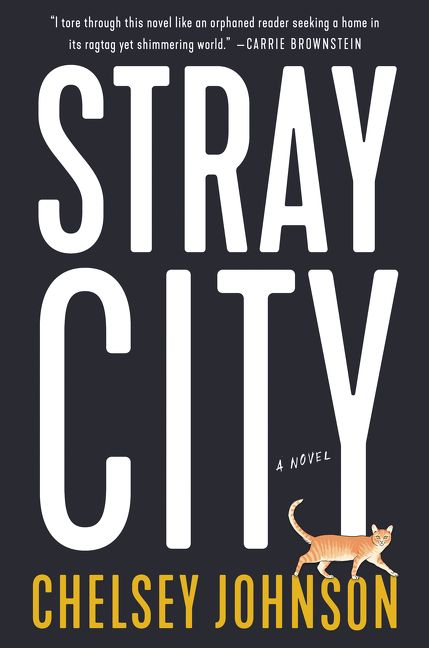 Unplanned Pregnancy #3! Johnson has described her debut as "the story of a lesbian who crosses the line," which in my opinion, though technically true, sounds much darker than the light and warmth reflected in this novel. Andy Morales, the book's protagonist, is a 24 year old card-carrying member of the "Lesbian Mafia" in late-90s Portland. Estranged from her birth family post-coming out, she's made a home and chosen family for herself amongst the gay and lesbian community in her city, replete with family dinners and karaoke and folding in stray cats, dogs, and people. Then Ryan happens. Still struggling to come back from a breakup, Andy starts hanging out and hooking up with a man, for reasons she can't quite explain to herself. For her part, Johnson does a decent job of acknowledging the biphobia present in that time and place while also allowing her main character space to process and define her own experience. I say "decent" because I felt that on the whole the book didn't seem quite certain how to balance its own stakes. The parts of the book I found most compelling were when Andy was with her chosen family, celebrating, arguing, or simply eating pie together, but—perhaps as an attempt to justify the premise—a lot of narrative time is spent in Andy and Ryan's time together and Andy's angst over it, which pushes Andy's pregnancy to nearly the halfway point, shortly after which the narrative jumps forward 10 years.

As I mentioned before, this is a debut novel (actually, all the books in this post except for Williams' are debuts, coincidentally), and I really hope Johnson keeps putting out fiction, because I loved the book's sense of humor, and the way several sections played with form, and the way the characters felt rich and distinctive without coming across as Rich & Distinctive Characters™. Also, it turns out the author grew up very close to where I grew up, and parts of the book were actually set in a northern Minnesota city that I'm super familiar with, which was incredibly fun (is this how it feels to live in New York and read books set in New York??).
---
Okay folks! Go forth into the expanse of 2019 with grace and good will! Remember that your body is not a construction site requiring constant improvement but a breathing, lovable organism that needs lots of water!