Alright alright alright.
We're gonna try to keep it snappy today because I mostly can't breathe out of my nose and should Probably Definitely be working on other things right now.

But first! I promised a few weeks ago that you'd soon be getting a link to sign up for the brand new newsletter my pal Hannah and I are starting, titled Pop Culture Pen Pals. Our conception of it is that every month it'll look like a letter from each of us to the other on a bushel of topics pertaining to movies and TV. Come for our shining faces and exuberant Takes, stay for…those same reasons! Trust me y'all, if you like it here (and especially if you liked when Hannah and I shouted about Madeleine L'Engle on this here very blog) you'll love it on our shared patch of the internet. Hannah is so, so smart and fun and thoughtful and creative and sometimes it feels like we're having the same thoughts, so do yourself a favor and get in on this palship!
https://tinyletter.com/PopCulturePenPals

Alright so today in Unintentional Themes That Became Intentional About Halfway Through the Week: all of these books are memoirs by women! which is one of my favorite genres! so this is great!

---
Save the Date: The Occasional Mortifications of a Serial Wedding Guest – Jen Doll

This is one of those that had been on my 'to-read' list so long that I couldn't even remember how it got there, and honestly by the time I picked it up I was a little skeptical. The cover suggested something more saccharine and bubbly than I was terribly interested in, but I decided to give the first few chapters a try and I'm glad I did. Doll chronicles a (large) number of weddings she's attended and the various mixed feelings and shenanigans she's gotten into at all of them. She gets into wedding and marriage ambivalence in a way that hit home, saying out loud what we all know to be true: that as much as the idealized wedding is "all about the couple," more frequently our feelings about and memories of any given wedding we attend are mostly reflections of our own doubts and hopes about our lives and relationships. I will say that it did get a bit repetitive about two-thirds in, when Doll started to seem like she was following the same script in every anecdote. Coming back to my misgivings about the cover, this is one of the reasons that I think cover design and marketing actually matters a lot — it often sets a tonal expectation that frustrates readers when the tone of the writing doesn't match up with what was sold to them.

Men We Reaped – Jesmyn Ward

I read and enjoyed Ward's novel Sing, Unburied, Sing a few months ago and was interested to see how that would transfer over into nonfiction. Frequently when authors write both fiction and nonfiction I find myself enjoying their nonfiction more (remember my Melissa Broder escapades?), but I've found that most often happens when I read their nonfiction first. I don't know what my reaction would have been if I had read this memoir before Ward's fiction, but in this case there's so much synchronicity in tone, themes, and setting that I'm not sure it would have mattered.
The book is actually made up of two timelines going in opposite directions and meeting in the middle. Written in alternating sections, one timeline proceeds in a fairly straightforward memoir style through Ward's early life, while the other works backward through a time in her life in which five young men in her life died in quick succession. The timelines meet in the middle, and Ward's skill is evident simply in the fact that the structure isn't confusing. Instead, the two timelines contextualize and reinforce each other, supported by the vivid imagery and lyrical sentences. Ward's account of growing up poor, Black, and Southern is haunting, as she takes the reader deep with her into both her connection with place and community and into her grief.
(cw: suicide, suicidal ideation)

We Are Never Meeting In Real Life – Samantha Irby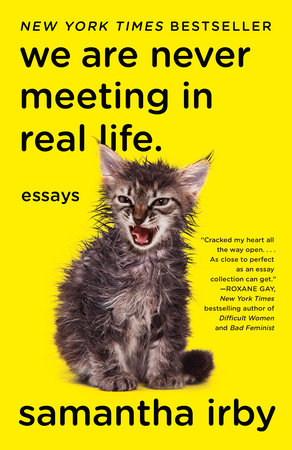 Samantha Irby is possibly one of the funniest writers in the world. She matches her impeccable ability to make a sentence pop with frank, eyes-wide-open observations and an impressive capacity for handling topics like depression (cw: some discussions of suicidal ideation), death, trauma, and potentially evil cats with candor and humor. She also writes about "lighter" topics, like dealing with ridiculous pet owners, dating, and ill-advised road trips, though she's so incredibly good at balancing tone that in one essay you're bound to run through a whole gamut of feelings. An essay that starts out as a lighthearted gambit joking about moving in with her now wife delves into her real insecurities about having what it takes to make a long-term cohabiting partnership work, while an essay about finding an appropriate place to deposit her father's ashes is chockful of jokes and commentary. On top of all of that, the book is carefully crafted so that each essay is self-sufficient while also building on each other. By the end you're both laughing hysterically and also feeling a bit emotional and also wanting to read everything Irby has written (her book Meaty is also on my list, and she has a blog!) (plus like, speaking of covers, HOW GREAT IS THAT COVER)
---
Cool cool cool cool cool cool cool. Remember to subscribe to the newsletter (and also, if you want this blog in your inbox, look down at the bottom right hand corner of your screen!) and read on!