Hello from the middle of a One Day at a Time bingewatch! (and also: another goddamn blizzard. I need it to be spring so I can wear something other than my winter coat and my clomping winter boots every day.)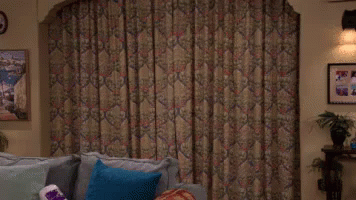 The third season of this delightful show came out a couple weeks ago, and after gobbling it down in a couple of days, I started over from the beginning while introducing it to a friend. And…that quickly snowballed into just a full-blown rewatch. If you're not familiar, ODAAT is the Netflix remake of a 1970's family sitcom, focusing on a Cuban-American family and their circle of friends. Penelope Alvarez is a single mom and an army vet trying to juggle parenting teenagers, being the only competent person at her workplace, and butting heads with her live-in mother, all while managing her own mental health. It's a warm, hilarious show that makes me tear up just about every episode (INCLUDING THE FLIPPING 'SEASON RECAP' HOW IS THIS ALLOWED.) Every character is perfect, and the show manages to deal with a wide range of topics — including depression, immigration, alcoholism, coming out, and SO MANY OTHERS — with both sensitivity and humor. GET ON BOARD, THANK ME WHENEVER.

---
Parable of the Sower – Octavia E. Butler

Okay so this Saturday I sat down on the couch at 9:30 a.m. and started this book, and then I barely got up until I finished it later that day. Butler's science/speculative-fiction is always engrossing and prescient, but this book felt particularly eerie. Published in 1993, it takes place in 2024, in a United States that feels incredibly close. A combination of human-induced climate change and late capitalism have produced a state of massive instability and danger. The protagonist and narrator, Lauren Olamina, lives in a community that has taken many efforts to protect itself, but even that's not enough to keep them safe. While her world falls into even deeper chaos, she is discovering/creating/shaping a new religion, Earthseed, which she starts sharing with the new community forming around her.

This is the first book in a duology, and I'm particularly excited to read the sequel, Parable of the Talents. I liked this first one a lot, but in some ways it felt like build-up to the second. Which is fine! Butler is a fantastically engaging writer, and I'm happy for her to take her time, especially considering that eventually I will run out of material of hers to read and I'm already sad about that day (and looking forward to the many rereads). Also, the edition I read had an interview with Butler at the back, the final paragraph at which BOWLED ME OVER:
(cw: sexual assault is never directly depicted in the book, but it is discussed/referred to frequently)

Where'd You Go, Bernadette – Maria Semple

This book has been living in the upper echelons of "zeitgeist-y-ness" since 2012, and has always been on my "oh yeah I should probably get around to that eventually" list, but I finally got serious about it when the trailer for the upcoming movie (March 22nd!) came out and I saw that the cast featured Cate Blanchett, Judy Greer, and Kristen Wiig!! The book's narrative is largely comprised of emails, letters, and other forms of communication between characters — interspersed with explanations and fill-ins from Bernadette's teenage daughter — and those that come from Bernadette I heard SO CLEARLY in Cate Blanchett's voice that I'm kind of astonished she didn't record the audiobook. [SIDEBAR: when I looked up who did record the official audiobook, I discovered that it was none other than Kathleen Wilhoite, who dedicated Gilmore Girls fans might know as Luke's sister/Jess' mom Liz! and now I really, really want to listen to the audiobook version.]

Overall, I found it to be a great blend between charming and moving, and wished I had been able to enjoy it on a beach or by a pool (which, admittedly, is what I've been longing for pretty much constantly for the past couple weeks). I didn't love it *quite* as much as the whole world seemed to, but that may be because I was still emotionally reeling from America Is Not the Heart. On the other hand, it might actually have been the perfect book to read after that: lighthearted and funny while still having a heart and being quite a lovely ode against cynicism.

---
That's all for this week, folks, other than to say that this Sunday Pop Culture Pen Pals released a "mini-issue" that's really just a preview for our next full-length one in March. It's full of shouting and potent gifs, and gives you a heads-up on what we'll be talking about next time. (p.s. not this month, but next month we will be talking about One Day At a Time, so do yourself an extra favor and get on that soon!) (p.p.s. if you've already subscribed but haven't been seeing it in your inbox, check your spam folder and then make sure you tell your email that it's not spam. I know it's happened to at least two people so far and we love you and also want to yell our thoughts at you.)