I'm pretty sure this is where I'm supposed to insert an "it's gonna be MAY" joke here, but I am not original enough to come up with a clever one, so instead I'll just geek out about the promotional picture for Big Little Lies Season 2 that came out this week:
LOOK AT HOW GORGEOUS IT IS. I will not rest until I have it on a tshirt, or, honestly, a dress.

---
If You Leave Me – Crystal Hana Kim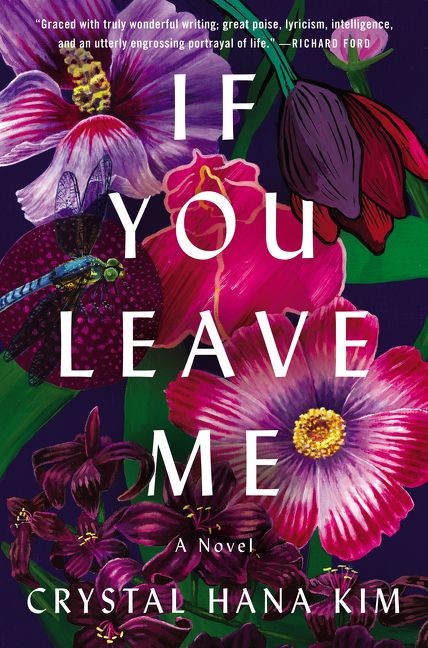 Let's start with the one I really wanted to like. I mean, first of all, look at that BREATHTAKING COVER. Kim's writing is similarly gorgeous and mysterious, straightforward on the surface, but with haunting depths reflected in the imagery and character choices.

Okay so THAT last sentence sounded like bullshit, but I've really been struggling to articulate what it was about this book that I just couldn't quite…reach? I'd actually be very interested in rereading this in the near-ish future, if only to solve that mystery. A lot of people I follow on Book Twitter and Goodreads liked it a lot!
Set during and right after the Korean Civil War, the novel follows a small group of interconnected young people and their relationships to each other, their country, their families, and their own dreams. I listened to an interview with the author on The Stacks podcast (which I definitely recommend!) in which she talked about how she was interested in exploring what it means to be a feminist in the 21st century thinking about what choices one's mothers and grandmothers may or may not have been able to make, especially during a time of war and I think having that in mind really enhanced my appreciation for the book. If you like historical, character driven dramas, you'll probably really like this, and even you're not, I'm glad I gave it a try.

[tw: domestic violence, sexual assault]

Jane and Prudence – Barbara Pym

Is this the exact definition of "back on my bullshit"?? Probably not. I've talked here and here about my new-ish found but deep and likely eternal love for Barbara Pym and the attention she pays to women and their friendships and rivalries with one another. Her characters aren't glamorous or brilliant or gorgeous–they're observant and wry and have strong opinions that they often couch in sarcasm or confide to their sisters and friends. They talk to each other in sensible and meaningful ways, with a sense of humor that's the embodiment of that "If you don't have anything nice to say, come sit by me" quote.

And yet! There's so much heart in her books, including this one that circles friends Jane–a 40-something wife of a vicar having difficulty adjusting to their new country parish–and Prudence–a 20-something research assistant who fills her emotional life with a string of unsuccessful "love affairs," most of them unrequited. Though Pym gently pokes fun at all of her characters, she also takes their hopes and sorrows seriously, giving them a dignity I didn't realize was missing from my life.

Intercepted – Alexa Martin

I talked about this a little last week in the latest romance edition but I wanted to make sure you didn't miss it, because this book has a lot of heart and a lot of spice and I really enjoyed it!

I would like to start out by saying that I honestly did not see a romance novel with a football theme being in the cards for me. I went in a skeptic, despite the endorsements by romance writers I adore. Within the first chapter, I was completely won over. Marlee Harper is the kind of protagonist you instantly wish you were best friends with, in no small part due to what a good friend she clearly is. Her relationships with her friends and family members were well fleshed out, clearly crafted with just as much care as the author put into the relationship between Marlee and Gavin–the new quarterback on the football team Marlee's ex plays on. Which! That relationship! Whew!! Martin does a fantastic job at creating a satisfying narrative arc that is also very hot.

I'm already clambering to read the sequel, Fumbled, and her yet-to-be released third Blitzed.

Dread Nation – Justina Ireland

Coming full circle here, I'll close with another historical book! Except for it's kind of not, because it's about zombies!!!

Jane McKeene was born in the middle of the Civil War, and two days before the Civil War was interrupted by zombies. By the time she's a teenager, society has gotten a tenuous grasp on the situation, largely due to ~technically~ outlawing slavery, and replacing by training Native and Black children in combat to prepare for careers providing protection (mostly to white people) from zombies (or "shamblers" as they're dubbed in the book.)

As someone who's always been "meh" about zombie stories, this book absolutely made me want to read or watch ALL OF THEM. Ideally they'd all be written by Ireland, but her thoughtfulness and precision about the precise fears and politics that go into those fears that zombies bring up finally got me to understand why culturally we're obsessed with them. She also incorporates race and gender in a way that's palpable in the plot and the dialogue and choices of the characters. This is a fairly thick book, but it's a quick read; I read almost all of it in one day.

[tw: lots of battle violence]

---
That's it for this week! Make sure you check your inboxes on Sunday if you're subscribed to Pop Culture Pen Pals (and if you're not, you can do that here!). It's gonna be a real doozy this month and you're not gonna want to miss it! You can find the preview here; if you're subscribed but not seeing them in your inbox, make sure to check your spam folder and mark us as "not spam."